Let your imagination go wild with your favourite Naruto characters, exploring the amazing world of alternate universes! "Dimensions" is an upcoming fan artbook that will include fanart, along with several merch items, set to be produced and shipped by Fall 2021!
Status: Complete
Dimensions will be an art only, SFW, gen (no shipping) project, allowing alternate universe content, featuring comics, spread art, and merch. Western, Pirates, Fantasy, High School, Space... when it comes to AU's, the sky's the limit!
Please give a warm welcome to the mod team working on this zine! Read more about them and their experience below!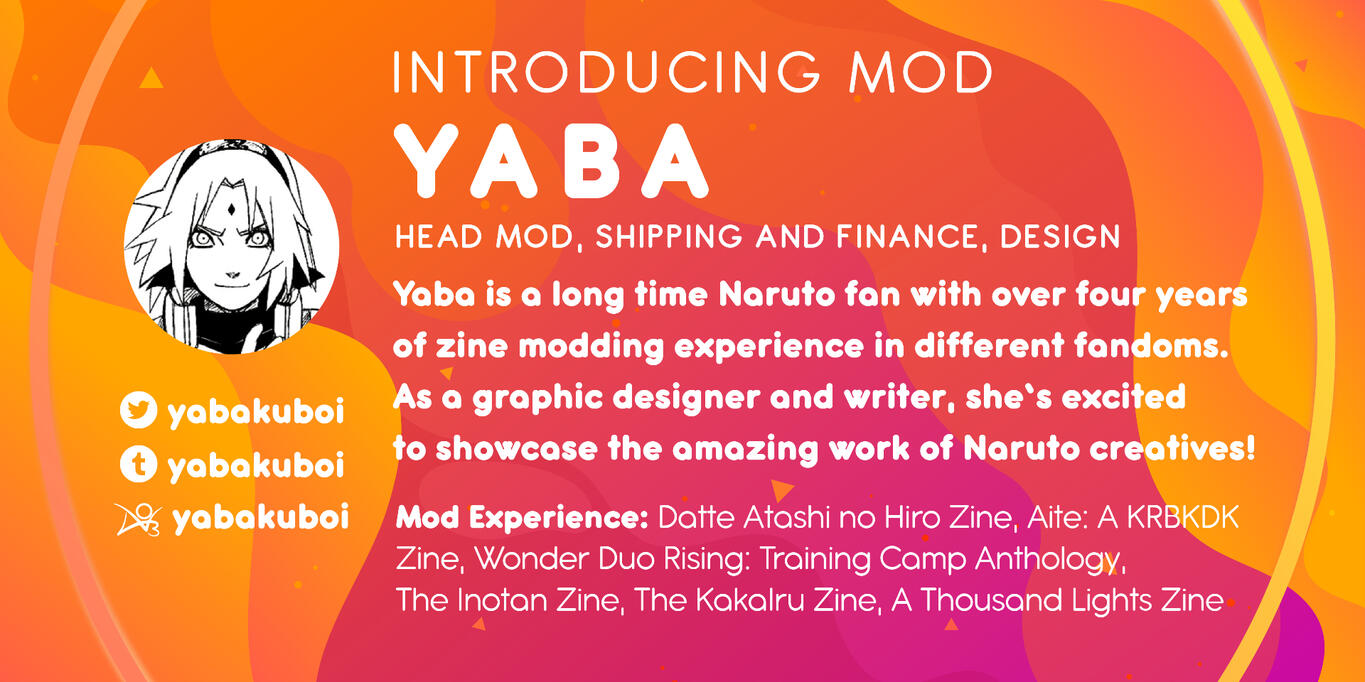 Introducing Mod Yaba, our knowledgeable and well experienced head mod, who is also handling design, shipping and finance.

Mod Experience: Design and Beta for Datte Atashi no Hiro Zine, Design for Aite: A KRBKDK Zine, Design for Wonder Duo Rising: Training Camp Anthology, Head Mod and Shipping/Design for The Inotan Zine, Head Mod and Shipping/Finance/Design for The KakaIru Zine, Head Mod and Shipping/Finance/Design for A Thousand Lights Zine.

Yaba is a long time Naruto fan with over four years of zine modding experience in different fandoms. As a graphic designer and writer, she's excited to showcase the amazing work of Naruto creatives!
---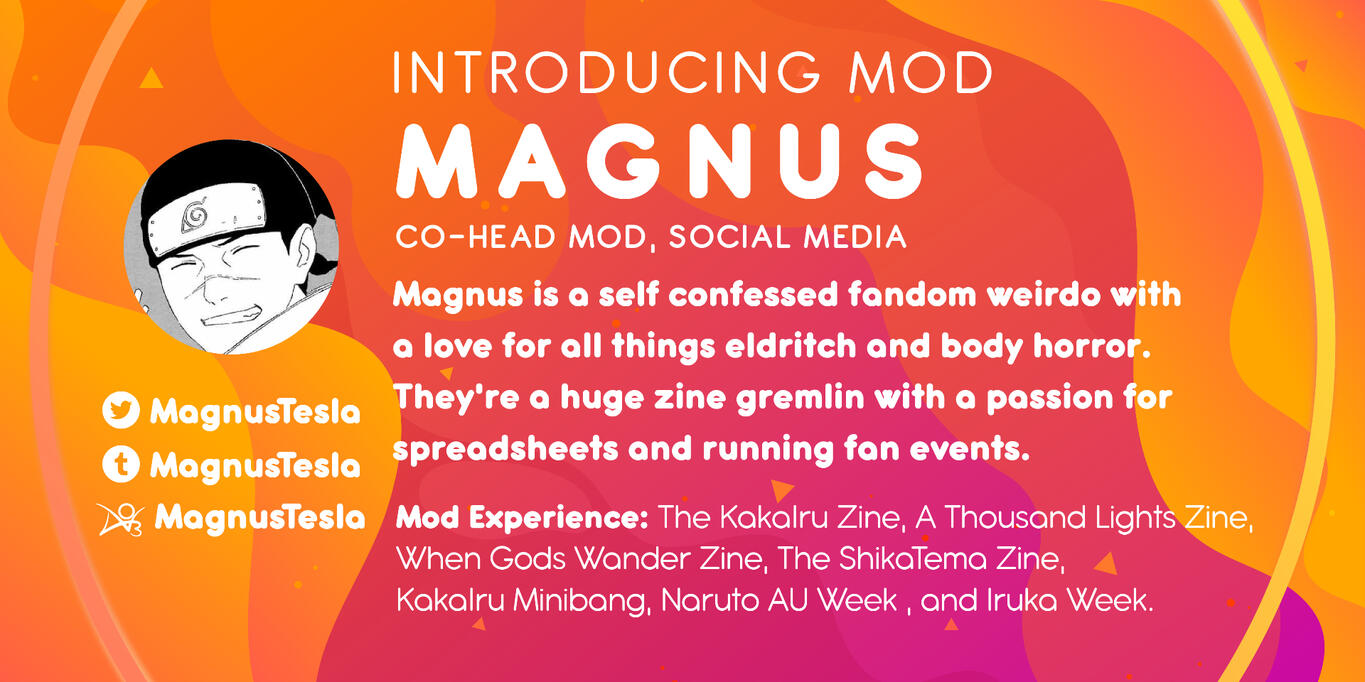 Introducing Mod Magnus, our co-head and also our obsessively organized communications and social media mod.

Mod Experience: Co-Head & Socials for The KakaIru Zine, A Thousand Lights Zine, and When Gods Wander Zine. General & Socials for The ShikaTema Zine. Mod for KakaIru Minibang 2020/2021, Naruto AU Week 2021, and Iruka Week 2021.

Magnus is a self confessed fandom weirdo with a love for all things eldritch and body horror. They're a huge zine gremlin with a passion for spreadsheets and running fan events.
---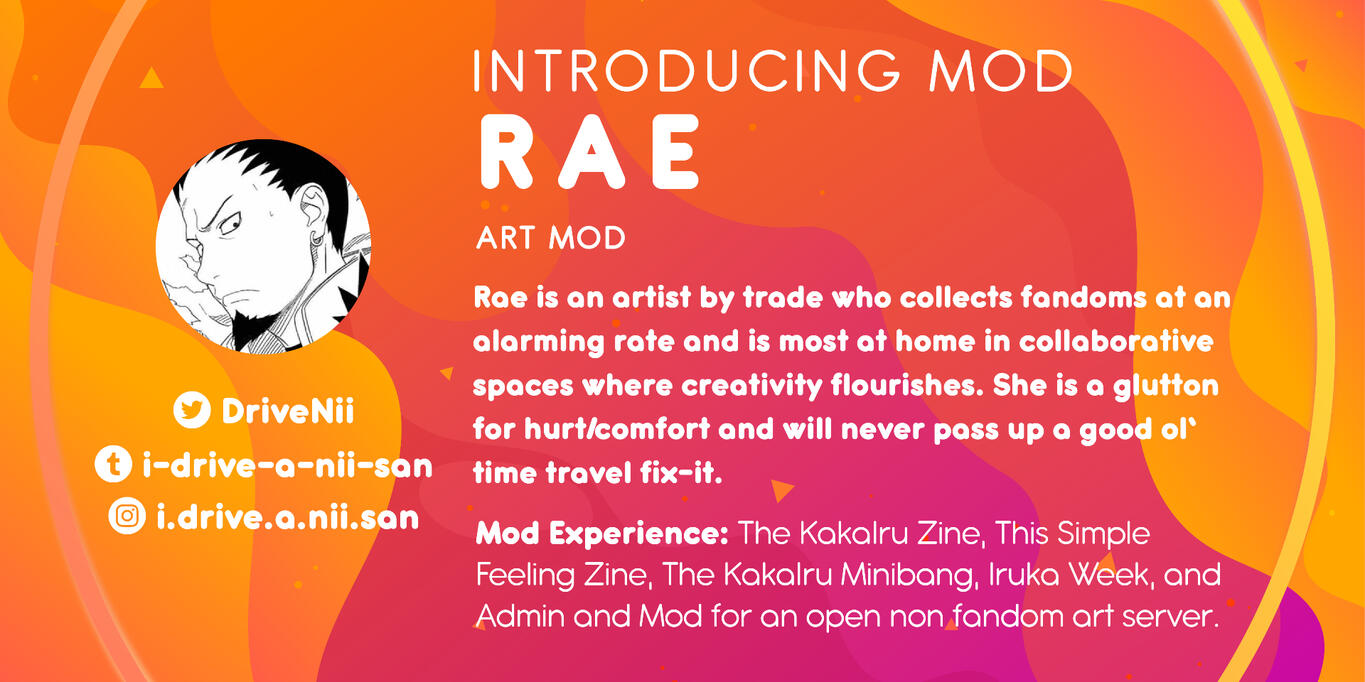 Introducing Mod Rae, our super skilled and wonderful art mod!

Mod Experience: Art Mod for The KakaIru and This Simple Feeling Zines. Mod for events such as The KakaIru Minibang 2020 & 2021 and Iruka Week 2021. Admin and Mod for an open non fandom art server.

Rae is an artist by trade who collects fandoms at an alarming rate and is most at home in collaborative spaces where creativity flourishes. She is a glutton for hurt/comfort and will never pass up a good ol' time travel fix-it.
---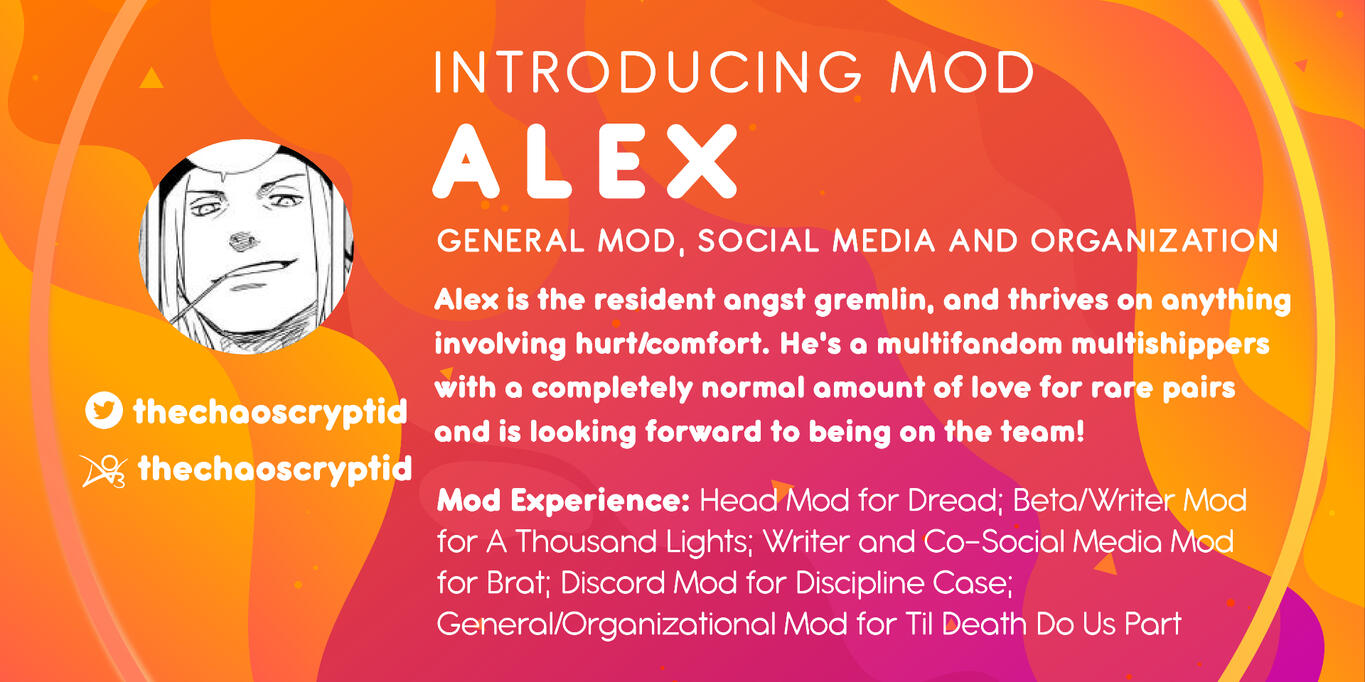 Introducing Mod Alex, our super organized general mod, who will also be managing organization and social media with Mod Magnus!

Mod Experience: Head Mod for Dread; Beta/Writer Mod for A Thousand Lights; Writer and Co-Social Media Mod for Brat; Discord Mod for Discipline Case; General/Organizational Mod for Til Death Do Us Part

Alex is the resident angst gremlin, and thrives on anything involving hurt/comfort. He's a multifandom multishippers with a completely normal amount of love for rare pairs and is looking forward to being on the team!
---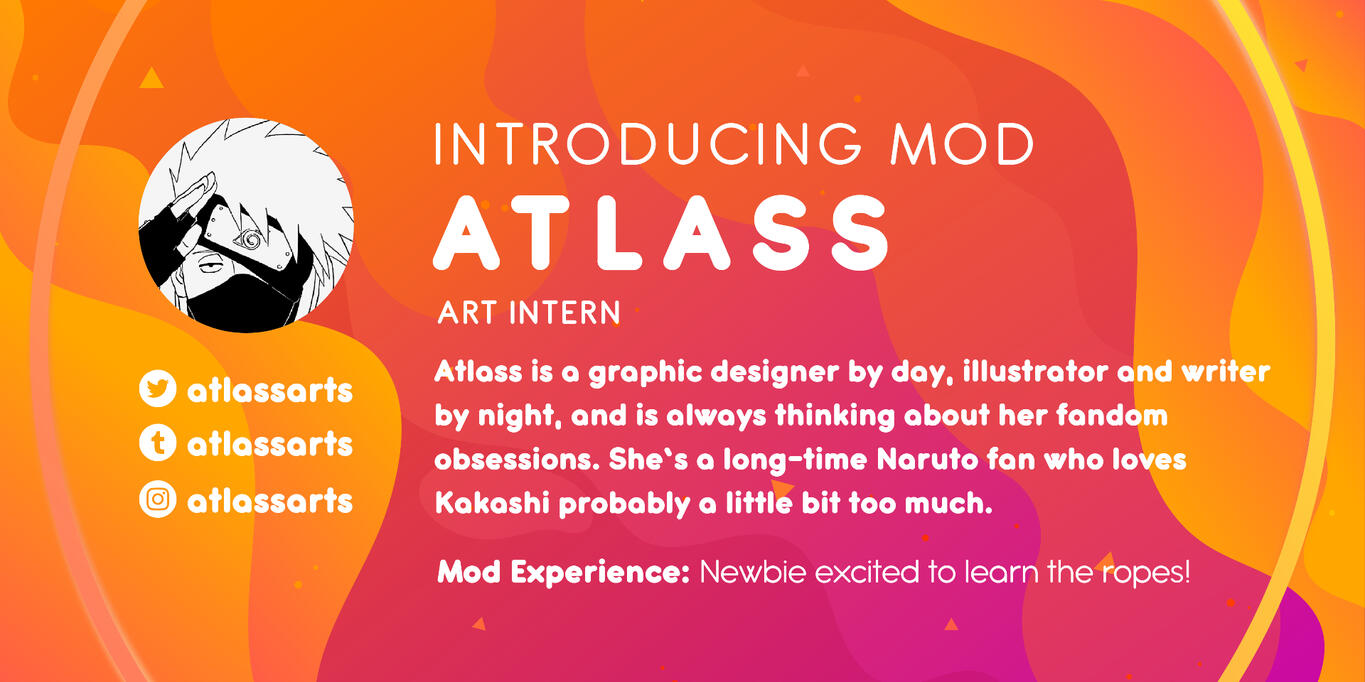 Introducing Mod Atlass, one of two art interns who will be working with Mod Rae!

Mod Experience: Newbie excited to learn the ropes!

Atlass is a graphic designer by day, illustrator and writer by night, and is always thinking about her fandom obsessions. She's a long-time Naruto fan who loves Kakashi probably a little bit too much.
---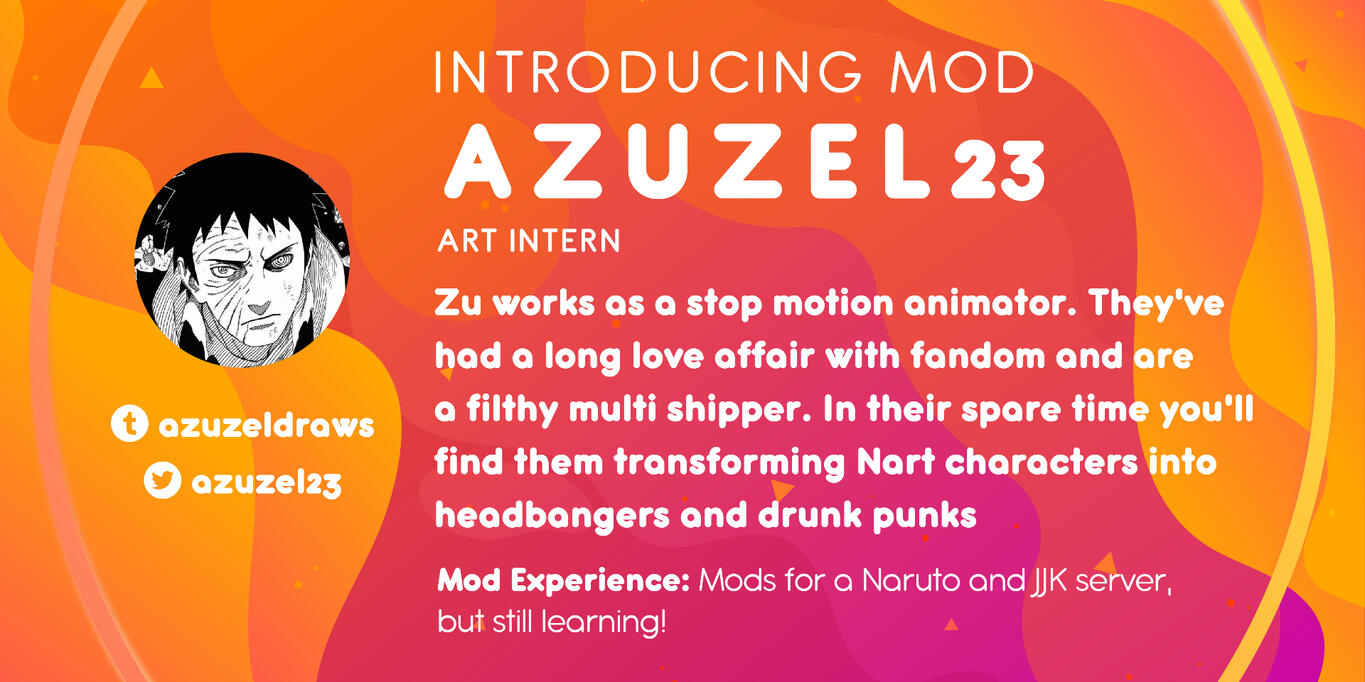 Introducing Mod Azuzel23, one of two art mod interns who will be working with Mod Rae!

Mod Experience: Mods for a Naruto and JJK server, but still learning.

Zu works in stop motion animation and also runs a variety of creative workshops for kids.. Anime has been their long love affair. Naruto and Jujutsu Kaisen are their tops, but really so many loves. In their free time they enjoy transforming Nart characters into drunk punks and headbangers. Not ashamed of being a filthy multi shipper
| Stage | Dates |
| --- | --- |
| Interest Check | Feb 15 - March 5 |
| Artist Apps | March 5 - April 5 |
| Shortlisting | April 5 - April 10 |
| Contributor Invitation | April 10 |
| Pitch Submission | April 20 |
| Creation Period | April 20 - July 5 |
| - Check In 1 | May 5 (Sketches) |
| - Check In 2 | May 25 (25%-50% Complete) |
| - Check In 3 | June 20 (50%-90% Complete) |
| - Final Submission | July 5 (100% Complete) |
| Design Production | July 5 - July 10 |
| Preorders | July 15 - August 15 |
| Production & Shipping | August - Sept |
1) Is this zine for profit or charity?

Dimensions will be both for charity and profit, meaning that after production costs, the profits will go towards all the zine contributors and also our chosen charity: First Nations COVID-19 Relief Fund.

2) What is the theme?

Our theme is alternate universes! Western, pirates, fantasy, high school, space… the sky's the limit!

3) Who are the mods for this zine?

We're a team of 6, made up of: Yabakuboi, MagnusTesla, i-drive-a-nii-san, Alex, Azuzel, and Atlass.

4) What are your requirements for contributor applications?

All applicants must be at least 16 years old at time of application. Please create a Google Drive folder containing your portfolio, and make sure that all the links work and that the permissions are set to be viewed by anyone with a link (this can be found in the share settings). SFW examples are preferable, but we will accept NSFW pieces, too. NSFW pieces must be clearly labelled. Your portfolio submission must contain at least one Naruto piece.

More info can be found in our 'App Guidelines' tab.

5) Do you have guest contributors?

We do, and they've been announced on our socials!

6) How will contributors be compensated for participating?

Contributors will at the very least get a digital copy of the zine. We would like to get contributors a full physical bundle, and free shipping for them if possible, too. After production costs, profits will be split between contributors and our chosen charity.

7) When do the contributor applications open?

Contributor applications will open March 5 to April 5. We hope to see you apply!

8) Who is allowed to apply?

Dimensions is an artbook, so we're looking for: page artists, comic artists, and merch artists. If you have questions about which application you should apply to, please reach out!

9) Can contributors apply for more than one position?

Yes, sure! But please note, if accepted, it will only be for one position chosen at the mods' discretion.

10) How many pieces of art will artists be expected to create?

Each zine artist is responsible for 1 page of artwork, and 5 comic artists for a maximum of 4 pages each.

11) How many pieces of merch will merch artists be expected to create?

More info coming soon!

12) Will you be emailing applications, regardless of being successful or rejected?

No one likes being left in the dark, so of course everyone will receive an email with their application status. We'll endeavour to get them sent out as scheduled, but please do bear with us if we're a little late.

13) How many contributors are being allowed into the zine?

30 page artists, 6-8 merch artists, 5 comic artists, and 1 cover artist. These numbers are tentative, and may be subject to change based on the number of applications.

14) Will you be shipping internationally? What will the costs be?

International shipping will be available, but we cannot guarantee rates until closer to time for preorders! We will keep customers informed of that information when it is time to order.

15) Will the zine be available as a digital copy as well?

Absolutely! The zine will be released in both physical and digital formats.

16) Will the applicants be able to request critiques?

Mods are unable to provide critiques at this time.
Find us over on Twitter, Tumblr, and Curious Cat!

Got a question? You can reach us through any of the socials linked below, or alternatively,
you can email us at [email protected]